The geniuses at Google Inc. are at it again – adding life improving features and utilities to their search engine! This time, the feature is known as "Mobile-Friendly," and provides a free, intuitive means for webmasters to test the mobile compatibility of their websites, right from Google's search bar! The technology works via a simple search query. First, the developer types "mobile friendly" into google search. From there, they will be met with a form box titled "Is your webpage mobile friendly?" Next, they type their website's URL into the box, and a quick analysis will be run by Google's mobile friendly algorithm. Finally, Google will display an information page indicating whether your website is mobile friendly or not. If the test fails, Google will provide some helpful tips to improve your site's mobile friendliness. From this page, the user can submit their site for indexing.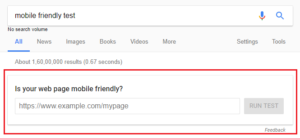 Obviously, this tool proves to be indispensable to any and all website owners. Mobile browsing now makes up the overwhelming majority of internet usage, and Google takes this into account when ranking your website for search. Without proper mobile optimization, your website doesn't stand a chance. While ensuring proper optimization was once a bit of a gamble, the mobile friendly tool provides definitive certainty, making it easy for developers to determine where their development resources need to be allocated.
Example of a test result of a mobile friendly web page

While this was all about the new tool from Google, we need to think, will mobile optimization alone take my business to the next level? Well No! Along with responsiveness, you need to make sure that the site loads fast, and is optimized in every way. For that, we have Google's Page speed insight tool, which scans your web pages and points out the optimization issues they have. Moreover, it suggests a handful of helpful ways to fix those issues.
Again, business owners have a tendency to get obsessed with good scores on Insight tools, instead of focusing on the actual speed of their web pages.We have seen a number of webmasters lose sleep over their page score, which they can ultimately improve, despite the fact that even after the score is improved the effect on loading speed of the site is minimal.
The very first step a webmaster should take is to analyze their site speed using a handful of tools available, such as GTMetrix and Pingdom. Remember, Google Page insight makes you aware of the optimization issues, but will never reflect the actual speed of your site. So, instead of focusing on your stellar insight scores, just take the optimization suggestions and apply them to make your site load faster. We have seen multiple sites that showcase average scores on the Page insight tool, but load faster than anything!
Don't take a chance on getting lost in the sea of Google searches! Any good SEO strategy depends on more than just filling a page with keywords and images. Like it or not, Google pretty much sets the rules for internet search rankings, and Google wants both fast loading and mobile optimized sites. When they unveil their "mobile-first" indexing in the next year, it will be especially important to ensure your sites mobile friendliness along with the speed factor as Google has made it clear that "loading speed" is one of the factor among the 200 ranking factors. As such, developers would be wise to make frequent use of the free mobile friendly tool and the pagespeed insight tool while designing their site, to improve their chances of being found, and to improve their users' overall browsing experience!