Over 25% of all the sites on the internet are now powered by WordPress making it the most popular CMS ever (and its popularity is only growing each year).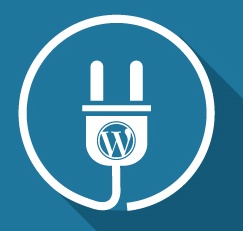 One of the greatest advantages of choosing WordPress from all the other CMS systems is that once you set up your WP site you instantly have access to an enormous range of plugins (There are over 44 thousand of different plugins by now!). They can help you build a more functional website, improve your visibility in search engines or even boost your site performance.
With those many plugins there it might be a bit of a challenge to find the most important ones. Having too many unnecessary plugins might actually decrease your site performance. You have to be careful here and only implement plugins you really need.
In this article, you will find the brief summary of the TOP 8 Free WordPress plugins to guide you through the world of WordPress. They are easy to install, easy to use and will help you take your WordPress site to the whole new level.
1. Yoast SEO – The #1 WordPress SEO plugin
If you are serious about your SEO this plugin comes in handy. It's not only the most popular SEO plugin there but also must-have for any WordPress site. It's especially great for SEO newbies as it simplifies your SEO tasks and provides you with a whole range of tips and suggestions to help you rank high in Google.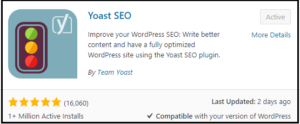 Here is a brief overview of how you can use Yoast SEO to boost your organic traffic:
Optimise your appearance in the search results – Snippet preview
Yoast SEO snippet preview functionality not only makes it easy for you to edit your titles and meta descriptions but also provides you with the instant feedback by displaying how your site will actually look when finding in Google. This can be really handy when you try to optimise your site for the CTR – Click through rate (which isn't a bad idea as Google does consider it as a ranking factor).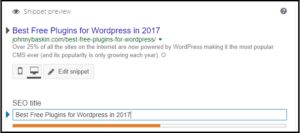 Use Index/noindex functionality
Do you have tons of duplicate pages on your site? Maybe you do A/B tests? If that's the case you don't necessarily want Google to index all of your pages.
Having all your pages indexed might cause confusion for search engines (they simply don't know which of the duplicate pages to display in search results). In some cases, your website can even get penalized for spammy practices!

Fortunately, with Yoast SEO index/noindex functionality you can easily set a noindex attribute to any page without going to the robts.txt file. You can even also add a canonical URL without editing any code!
Generate a sitemap
Do you want to make sure that all your pages are reachable by GoogleBots? Help them – generate an XML sitemap! This Yoast SEO plugin has the most intuitive XML Sitemaps functionality ever. All you have to do is to check the box and Yoast SEO plugin will generate a sitemap for you – It's that easy.
2. WP Fastest Cache – Performance Enhancement plugin
In 2016 Google webmaster team officially confirmed that Google considers page load speed as a ranking factor in their algorithm. The measure of how fast your site loads not only determines your rankings but also has a huge impact on your conversion rate. It was measured that every second delay implies 7% drop in sales.
That being said you probably want your site loads faster. WP Fastest Cache is a great caching plugin that does just that. It can significantly decrease your load time and as a result, lower your bounce rate, help you rank higher and drive more sales. Not only caching, it also has the options to minify CSS and js files.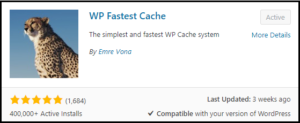 How big decrease can you expect? That depends on many factors such as your website code, size and if you are already using a caching plugin. But to give you an idea of what to expect here is an example: I recently installed and activated WP Fastest Cache plugin on my website and my average page load time dropped from about 1.1s to just 0.7s. That's 36% decrease in page load time achieved in under two minutes (that's how long it takes to install and activate a plugin)!
Migrating your WordPress site along with all the images, posts and videos might take forever. Right? Not with All in one Migration plugin! This intuitive plugin provides an incredibly easy and reliable migration solution to help you save your time and possibility even avoid a headache. Migrating your WordPress site has never been easier but if you are a beginner there is also a step-by-step video provided to navigate you through the process.The great thing is even if you are not migrating, you can use it as a backup tool and save your backups to Amazon S3, Google Drive, Local storage and at many other places.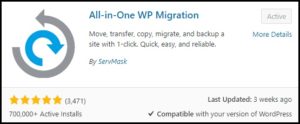 4. Akismet – Spam protection for WordPress
Deleting all the spammy comments is not only time consuming but also boring. If you are a webmaster you better spend your time optimizing your site rather than reading through comments looking for the non-spammy ones. Akismet is a great tool to help you automatically filter out all the spam comments and save your time. It does its job by checking every comment against Akismet global database of spam preventing your site from publishing malicious content.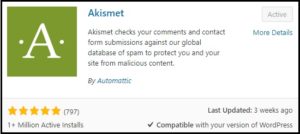 5. WP Smush – Image compression and optimization
Do you have a lot of high-quality images on your site? Well, if you don't you should probably consider adding some – They are great for SEO.
Apart from increasing your rankings images also increase your site size causing it to load much longer. We already showed that page load speed matters so it seems like we are facing a problem here. How can you possibly have all those great images but at the same time keep your page size as small as possible?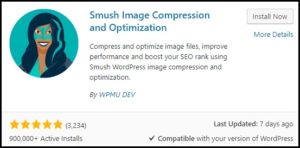 Here is when a WP Smush plugin comes in handy. It's a compression plugin that cuts all the unnecessary data and significantly decreases the size of your images. If you have tons of uncompressed images it can be a game changer for your site performance. The WP Smush use lossless compression meaning that it just reduces the size of an image without affecting its quality!
How easy it is for your users to contact you? This commonly used plugin enrich your website with a  form submission functionality.
It lets you add highly customizable form submissions on your pages. All you have to do is to customize the form so that it does its job and you are ready to add it whenever you want on your site simply by pasting the shortcode generated by Contact Form 7 plugin.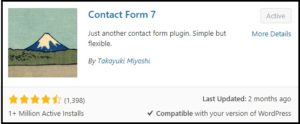 This plugin really simplifies things. It has a collection of 50 shortcodes that you can use to add a variety of visual and functional elements to your pages.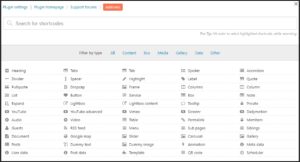 By using Shortcode Ultimate plugin you can create buttons, boxes, sliders and responsive videos in a matter of minutes. It's another time-saving plugin you should start using now!
Are you concern about your site security? If you are a webmaster you probably want your site to be safe, don't you?
Fortunately, there is a simple way to increase your site security. That is to hide your logging page from others. If someone can't find your logging page how can he possibly guess the password? He can't! WPS Hide Login plugin does just that. It lets you create a custom URL for your logging page to hide it from others and fell a bit more confident about your site security.